As an insurance agent for more than 25 years, Michael Everson has seen a fair amount of tragedy. "I have been to my share of funerals … I have had many clients die too soon in traffic crashes," said the owner of 1 Source Insurance in Colorado Springs, Colorado.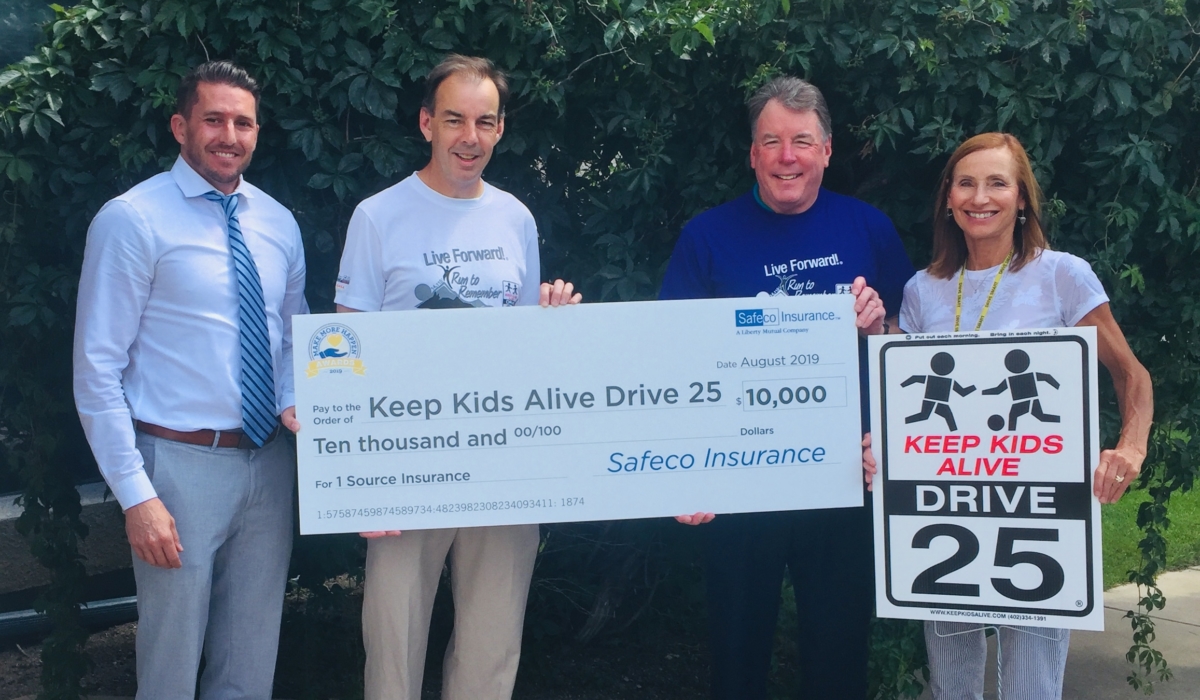 In 1998, Everson's brother, Tom, decided to find a way to prevent those tragedies. He initially founded Keep Kids Alive Drive 25 (KKAD25) in Omaha, Nebraska, to address speeding in local neighborhoods.
KKAD25's reach has extended far beyond Omaha in the years since. The nonprofit has supported traffic-safety initiatives in more than 1,700 communities throughout 49 states, three Canadian provinces, and even the Bahamas and Australia.
Its overall mission is to make the streets safe for all who walk, cycle, play, drive, and ride, Tom said—something that requires collaboration with community groups, governments, schools, and more to educate and engage citizens. Initiatives include distributing signs for neighborhoods (Keep Kids Alive Drive 25), campaigns to curb distracted driving (Phone Down–Eyes Up), a seatbelt- education program (FASTENATING!), and several others.
Brotherly collaboration
At first, Tom spurred KKAD25's growth by contacting officials in communities around the country; now, the ripple effect from those efforts means individuals and municipalities usually contact him.
His brother has been there every step of the way. "Tom and I talked a lot about how to launch the organization," Michael said. "I helped secure sponsors and donations to produce signs, decals, and other materials, and it's been incredible to see the impact since then."
Michael is still a strong supporter—an avid runner, he participates in KKAD25's Run to Remember each year on 14,000-foot Pikes Peak in Colorado. The goal is to bring together people with the shared experience of losing a loved one in a traffic incident (calling them "accidents" is a misnomer, Tom notes, because 94% of these fatalities are the result of specific behaviors). Even if attendees don't run, the names of those lost are printed on shirts the runners wear.
The run ties into one of the most meaningful initiatives of all for Michael and Tom: Live Forward!, which supports those who have tragically lost a loved one by asking, "What good would you like to bring into the world in their honor?" Then KKAD25 helps them bring that desire to fruition.
"These families motivate our mission each and every day," Tom said. "The loss never truly heals, but they are diligent in trying to ensure that others don't suffer the same fate."
A 2019 Safeco Make More Happen Award will further that mission as well. It includes a donation of up to $10,000 to Keep Kids Alive Drive 25 from Safeco on behalf of 1 Source Insurance.
"It seems simple, but signs and other campaigns really do make a difference," Michael said. "We all want the people who speed on our streets to slow down; posting a yard sign or even a decal on the garbage can is one of the least expensive, most effective ways to make this happen. It literally can prevent needless deaths."
Learn more about these winners: