For children who find themselves in the Kansas foster care system—often after abuse, neglect, or abandonment—life may be better than before, but it's still filled with uncertainty.
And the challenges grow when they "age out" of care programs, usually between 18 and 21. Many are immediately homeless, and they are vulnerable to drugs, crime, abusive situations, even human trafficking.
Flint Hills Foster Teen Camps (FHFTC) outside of Manhattan, Kansas, was created to give hope to these young people—and when Vonda Copeland learned about the organization's work, it touched her deeply.
"There's no greater mission than to save a child and help shape them into an adult who can live successfully in society," said Copeland, vice president of Copeland Insurance Agency in Manhattan.
Allowing kids to be kids
FHFTC hosts five camps a year for boys and girls ranging from 12-18 years old, providing a place where foster teens can escape the stress of their everyday lives—while experiencing activities that allow them to be kids and build trust, according to co-director Lisa Irvin.
Meanwhile, the organization's Homes of Hope program supports young adults 18-20 who have aged out of the system or are in the process. It helps them learn life skills such as managing finances, navigating social situations, and pursuing additional education.
'There's no greater mission than to save a child and help shape them into an adult who can live successfully in society.'

—Vonda Copeland, Copeland Insurance Agency vice president
Copeland heard about FHFTC when an employee at her agency volunteered at a camp—and today, both she and the agency are heavily involved. She serves on the board, does whatever needs to be done at several camps each year and participates in fundraising. Copeland Insurance sponsors events and helps to raise awareness, and employees provide support as well.
'It's all worth it'
"It's hard to put into words the feeling you get when you know where these kids have come from," Copeland said. "If we can play just a little part in helping them know there is hope, that they can control their future, and that there is a place they can go for support, it's all worth it."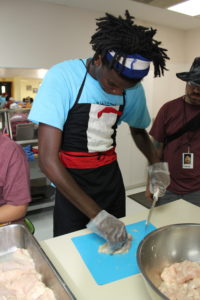 Their commitment has been a "game-changer" for FHFTC, according to Irvin. "Vonda and Jay (Vonda's husband and president of the agency) have a heart like few others," she said. "They do things like this to help better their community and the people in it."
A 2020 Make More Happen Award will help with that mission. While the honor usually includes an initial donation of $5,000 and the opportunity to win another $5,000, Safeco and Liberty Mutual are donating the full $10,000 to Flint Hills Foster Teen Camps on behalf of Copeland Insurance Agency to provide immediate support during this pandemic.
A growing need
That additional funding can make a big difference, Irvin said, because right now the need outstrips the organization's capacity.
"We shed a lot of tears during the camps," Copeland said. "It's emotional for all of us, including the kids. FHFTC allows them to become 'overcomers,' moving past their challenges to take back their futures. It's an amazing thing to witness—and it's even more amazing to be a part of it."
Share this story to spread awareness and learn more about these winners here: