Insurance Protection Specialists won a $10,000 donation to help Shower Power from Liberty Mutual and Safeco Insurance by reaching their goal of 500 votes + shares. Shower Power provides hygiene services to people experiencing homelessness in Jackson, MS. Congrats to the team and thank you for supporting them!
When most people think about homelessness, two big needs come to mind: shelter and food. But what about a shower? While people experiencing homelessness face many challenges, lack of access to hygiene services is among the greatest. Even when folks can get to a shelter, there's no guarantee there will be a shower there.
This is what motivated Teresa Renkenberger to found Shower Power, an organization that provides clothing, food, showers and hygiene items to people experiencing homelessness in downtown Jackson, MS.
Bringing self-care to the community
Insurance Protection Specialists (IPS) got involved with Shower Power in August 2020 after IPS agent Clancy Walker, who goes to church with Renkenberger, told her colleagues about the organization's needs.
The agency had previously been volunteering at Grace Place, a homeless mission in downtown Jackson, but Grace Place closed during the pandemic. Working with Shower Power was a creative new way for the IPS team to continue serving the Jackson homeless population that is near to their hearts.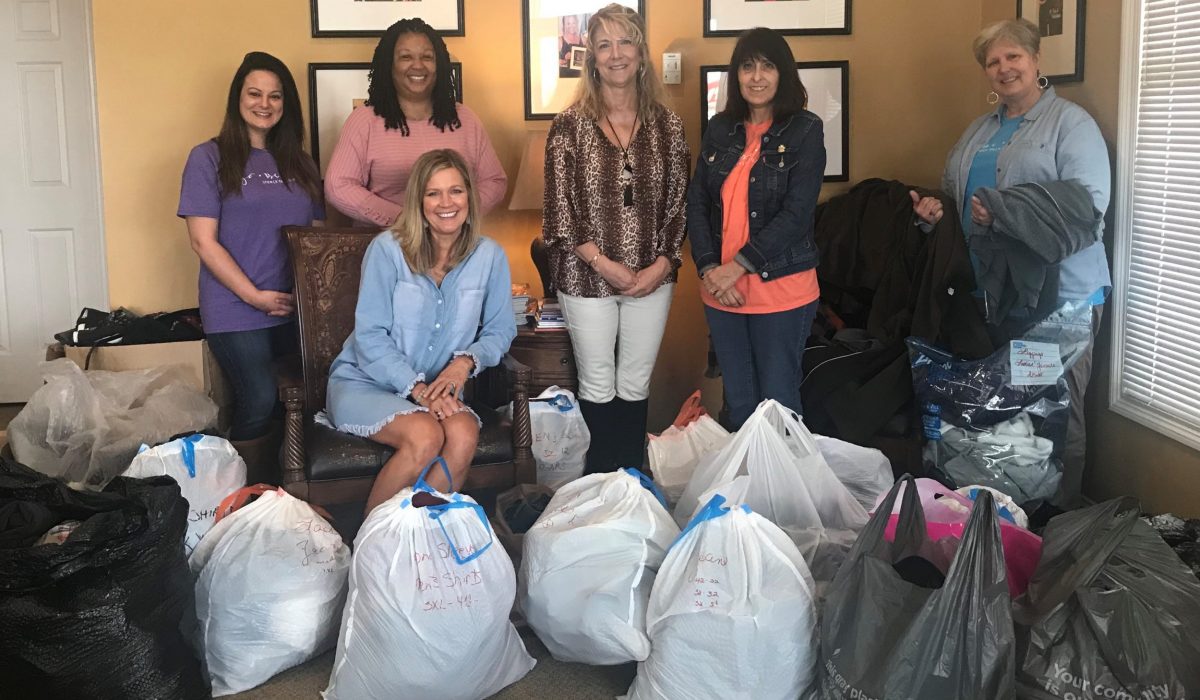 The team quickly got to work, with every single IPS employee getting involved. They made and delivered hygiene packs, held a massive clothes drive and contributed funds to one of Shower Power's many housing initiatives, helping to house nine people in hotels during two extremely cold winter weekends.
"We're able to do so much more for the community with the help of Insurance Protection Specialists," said Renkenberger. "In addition to supporting our focus on hygiene, the team has helped us look toward developing laundry services and expanding our housing support programs, too."
"We're able to do so much more for the community with the help of Insurance Protection Specialists."

– Teresa Renkenberger, founder of Shower Power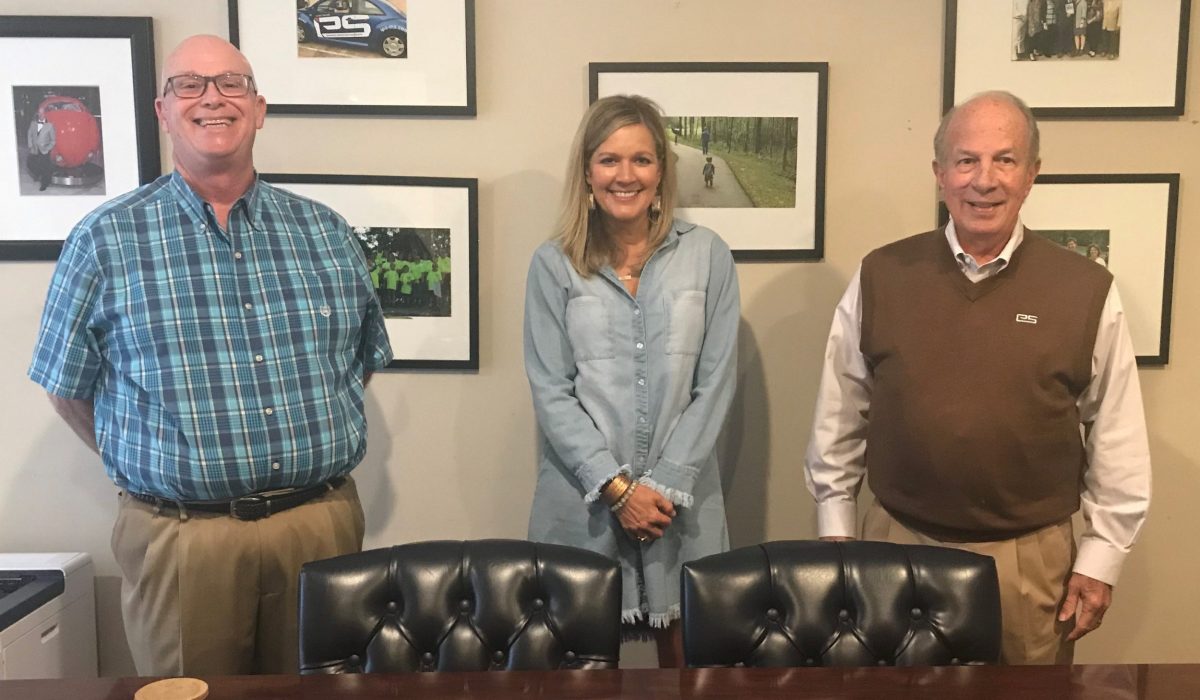 Creating new possibilities
Shower Power has taught Insurance Protection Specialists just how impactful access to hygiene services and clean clothes really is. Walker recounted one of their clothes delivery trips to Shower Power in which a client needed a dress she could wear to a funeral the next day. Walker, who had sorted the delivery, knew there weren't any dresses to offer, but a group text to her colleagues garnered a quick response from agent Bridget Portis. Within an hour, Portis delivered an unworn black and white dress to the client in need.
"Shower Power helps restore people's dignities in so many ways," remarked Walker. "Clean clothes, which so many of us take for granted, enable people experiencing homelessness to comfortably have experiences with people outside their immediate communities."
"Shower Power helps restore people's dignities in so many ways."

– Clancy Walker, agent at Insurance Protection Specialists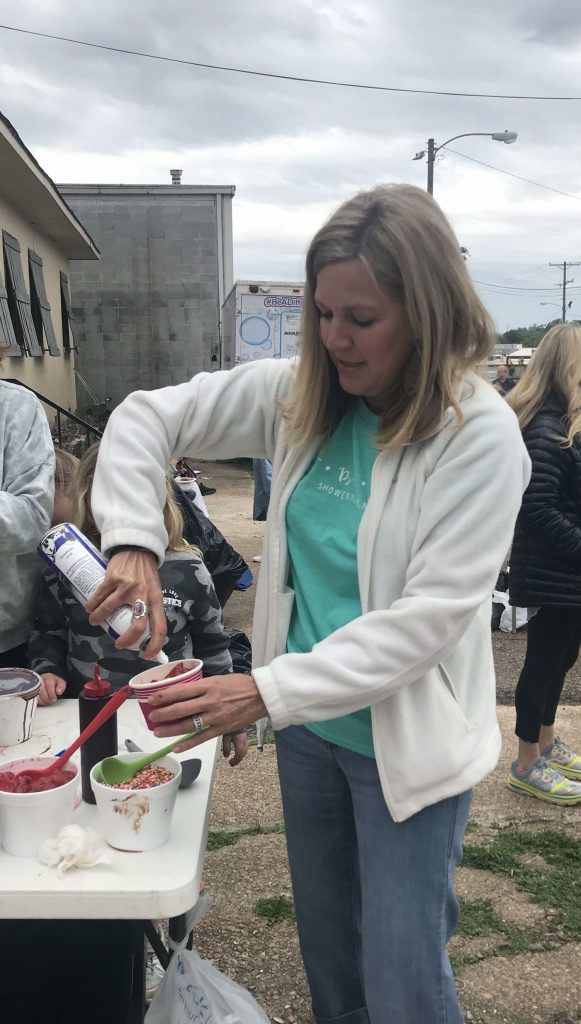 IPS Agent Clancy Walker prepares ice cream sundaes for the Shower Power MS crowd. In addition to the ice cream provided by an IPS client, the agency brought canned food, 2 cases of mosquito spray and 48 backpacks for the homeless who are served by Shower Power in Jackson
An enduring commitment
Shower Power is growing its services to provide more for its communities and respond to more of their needs. For example, the organization used the initial $3,000 contribution it received from Liberty Mutual and Safeco for winning a 2020 Change Agents award to help improve the interior of the building.
As Renkenberger's friend Benny said to her while he was experiencing homelessness, "More than food, I need a shower." Shower Power honors that and so much more – bringing hospitality to the streets and helping people feel cared for.
To vote, simply share this story using the blue icons to the left, comment below, or both. Every vote and comment gets Shower Power one step closer to a $10,000 donation, which will go toward Project Hope, a housing initiative to provide shelter for clients. Visit Insurance Protection Specialists and Shower Power to learn more.