Eric Weedin, an independent agent at the Weedin Agency in Loveland, Colorado, became aware of the dire situation of "diaper need" through his involvement with the local rotary club that founded The Nappie Project.
Through Rotary, Weedin learned that if a parent lacks an adequate supply of diapers, children are often left in wet and soiled diapers, resulting in frequent rashes and infections. He also discovered that most childcare centers require parents to provide a day's supply of diapers. If parents can't afford to meet this requirement, they will miss school or work, which can contribute to their negative financial spiral.
Eliminating impossible choices
"The Nappie Project is committed to ensuring that children have an adequate supply of diapers. We also work to raise awareness of diaper need and its impact on families," said Randy Touslee, treasurer of the organization. "Sadly, it often boils down to diapers versus food, rent or utilities, because neither Medicaid nor food stamps cover the cost of diapers."
The Nappie Project was started in 2015 by a retired social worker, Jan Touslee, and Loveland pediatrician, Rachel Konda-Sundheim. They knew too well the impact of diaper need, having witnessed families struggle to keep their children adequately supplied with diapers. Once aware of the need, the Weedin Agency started collecting diaper donations from community members. They also help fund the cost of diapers that are distributed weekly by the Laramie County Food Bank and the House of Neighborly Service.
Funding for families
"You can't send a child to day care in a cloth diaper – you need disposables," says Eric. "People trying to better their family's wellbeing by working or getting an education, rely on donations of disposable diapers, because they are unable to cover the average cost of $80 per month, per child."
A 2018 Safeco Insurance Make More Happen Award will help. The honor comes with a donation of up to $10,000 to The Nappie Project from Safeco on behalf of the Weedin Agency. The monies will be used to purchase more diapers in bulk, at a discount from area retailers.
"Parents who can't afford to join big box retail clubs are forced to pay a premium at small groceries," says Eric. "We collect and purchase every diaper size in bulk, then everyone at our agency pitches in weekly to repackage and distribute them to families in need."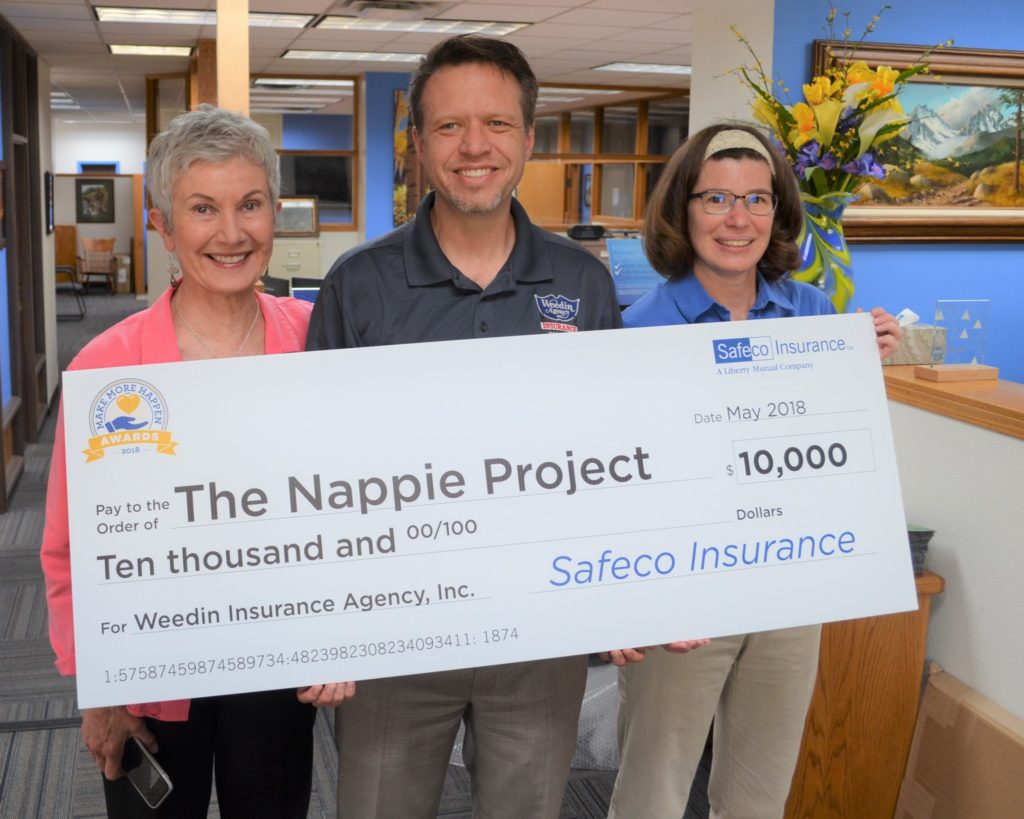 Learn more about these Make More Happen winners: