Davidson & Associates began insuring Partners in Careers (PIC) more than 10 years ago and agency employees saw the nonprofit's impact first-hand. It inspired them to take the relationship beyond insurance with an all-in focus of the nonprofit's Roots to Road program.
Planting, growing, building
There's a tangible benefit for the community as well—the harvest is donated to local food banks.
"The breadth of this program is incredible," said Emily Roesch, the marketing and community relations coordinator for Davidson & Associates. "We love being present on the farm and meeting the veterans, along with sponsoring and volunteering at fundraising events."
A blooming relationship
Over the last several years, agency co-owner Bryce Davidson has helped guide PIC as it worked to refine the program and create sustainability, and the Davidson & Associates team has gotten more involved as well, taking part in food distribution and other initiatives.
A prime example is the farm-to-table luncheon the agency organized for "Give More 24," a community day of giving each September. "It started when they secured Jorge Martinez of Mon Chef to prepare a meal for our donors at the farm, using produce grown by the veterans," Pesut said. "Now it's a vital annual fundraiser for us."
Roesch devotes time each week to planning and promoting the event, and several other agency employees work at the luncheon itself. The event has been wildly successful—donations to PIC for Give More 24 more than doubled in 2017, and then increased by 50% again in 2018.
Ensure the future at the farm
"Davidson & Associates has been responsible for over $15,000 in donations and in-kind gifts to Partners in Careers since 2014," Pesut said. A 2019 Safeco Make More Happen Award for the agency will add to that figure—the honor includes a Safeco donation of up to $10,000 to PIC on behalf of Davidson & Associates Insurance.
"They are tremendous partners, true community supporters and all-around good people."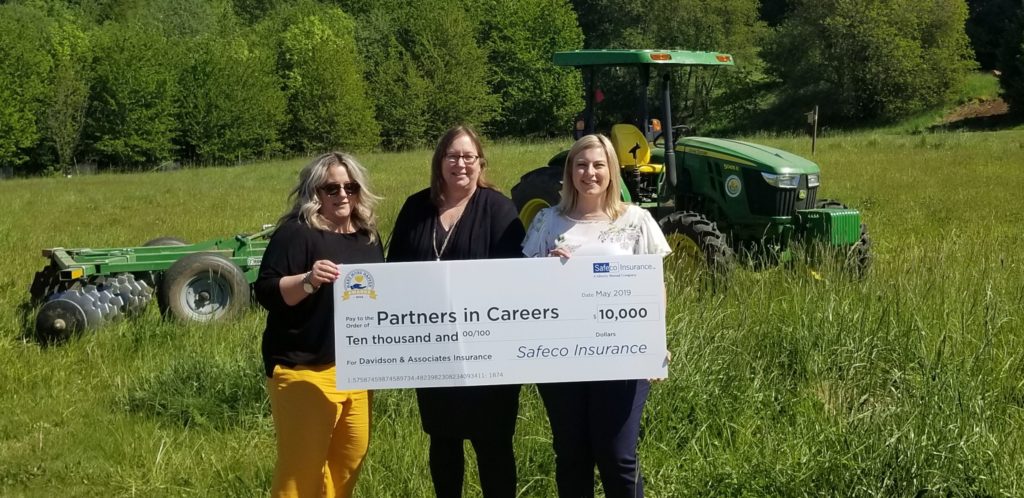 Territory Manager Carmen Jacobson and Roesch present the donation check to Partners in Careers.With that money, PIC could provide five homeless veterans the opportunity to work side-by-side for 15 weeks while building valuable job and social skills. And ultimately, that's the most important thing, according to Roesch, who had the opportunity to visit the farm last year.
"I remember hearing the confidence in their voices when they explained how they grew that year's pumpkins, and the pride they took in the work they had been doing," she said. "You can tell how much this opportunity means to them, and I'm excited to see the wonderful things these veterans do when they embark on their next adventure."
Learn more about these Make More Happen Award winners: