Mental Health America of the Heartland (MHAH) is dedicated to improving the quality of life for those with mental illness through advocacy, education and support. They reached their goal of 500 votes and doubled their donation to reach $10,000.
MHAH provides resources, support and access to housing for people diagnosed with a mental illness in eastern Kansas and western Missouri. It helps individuals overcome barriers related to their mental health diagnosis so they can get the resources and services they need and deserve, as well as live successfully with or in spite of their illness.
Expanding access to housing is a big part of the organization's work. MHAH's Heartland Housing Initiative gives formerly homeless individuals with a mental health diagnosis a path to permanent, safe and affordable housing in 44 fully furnished homes. The services provided vary and are tailored to meet the individual residents' needs and wants. These facilities offer comprehensive on-site support that includes symptom and side-effect management, peer support, medication management as requested and a wide range of educational and employment services.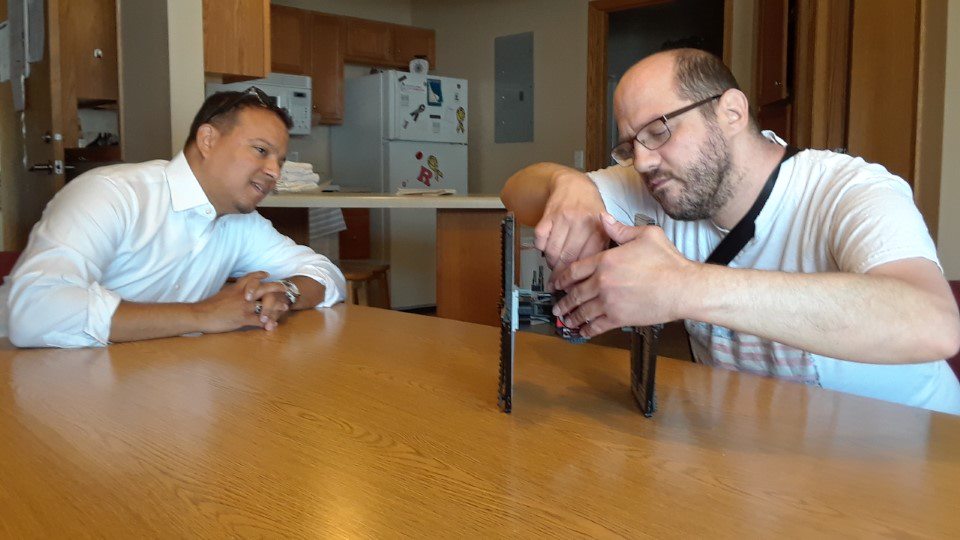 Inspired by personal experience
Juan Luengo, the owner of Engage Insurance Group, became aware of MHAH through personal experience. A family member who suffers from bipolar disorder, so he sought help from the nonprofit to better understand the condition and the impact mental illness can have. "I realized I would never know what it feels like to walk in the shoes of someone experiencing a mental illness such as bipolar disorder, but my time with MHAH has increased my knowledge and empathy," he said. It also opened his eyes to how many people experience mental illness — about 25% of all Americans — and the shocking number who end up homeless because of their condition. Gaining this knowledge inspired him to volunteer with MHAH.
Breaking the cycle
Learning about the connections between mental illness and homelessness led Engage Insurance to focus much of its support on MHAH's Heartland Housing Initiative, and specifically its Marion Apartments location, which houses 10 individuals. This housing program has broken the cycle of homelessness for hundreds of people in the community, giving hope to those struggling with mental illness and enabling them to live successfully and contribute to their communities. It also saves hundreds of thousands of dollars in emergency room, jail and psychiatric hospital costs.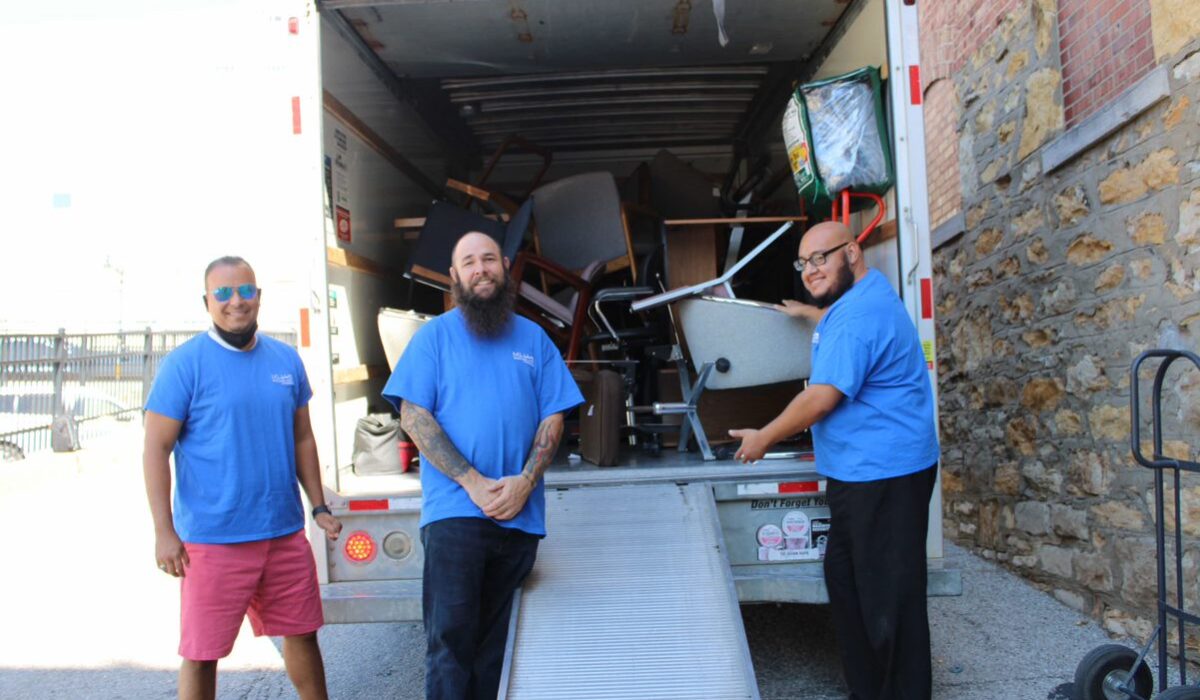 Along with leading Engage Insurance's volunteer effort, Luengo serves the nonprofit in several other important ways. He serves on its board of directors, advises the nonprofit on its insurance needs and consults on operational matters such as software and project management tools. In addition, he and his staff help with fundraising events and with promoting the critical work that MHAH is doing in the community.
"The thing I love most about giving to this organization is knowing my support impacts a broad range of individuals in our community — including many struggling in silence."

– Juan Luengo, CEO, Engage Insurance Group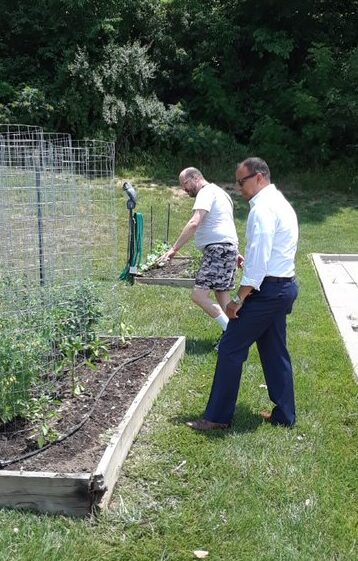 James gives Juan Luengo a tour of the community garden he started at the Marion Apartments in Leavenworth, Kan., which is run by Mental Health America of the Heartland. 
Providing stability and hope
The experience of one of the residents of the Marion Apartments shows what is possible with the proper support. Prior to working with MHAH, James was homeless for many years without access to therapy, medication or services to treat his schizophrenia and intellectual challenges. Now, 20 years later, he is one of the longest tenured residents and largely self-sufficient. He enjoys tending the community garden he started on the property, supporting his neighbors with recovery strategies and welcoming and making new residents feel at home.
"Juan and his staff help provide stability and hope to those coping with a mental illness."

– Susan Lewis, President and CEO, Mental Health America of the Heartland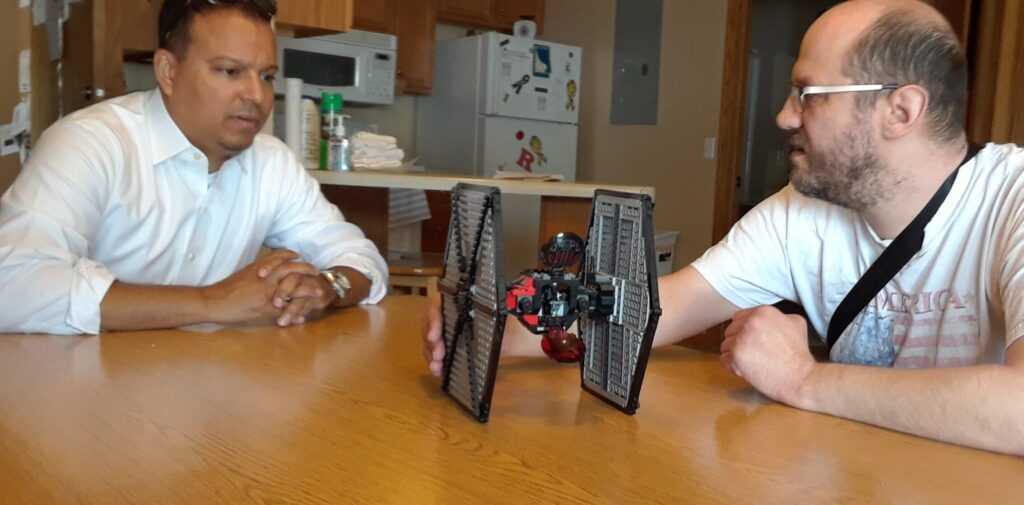 James shows Juan Luengo one of his LEGO® designs in the common room of the Marion Apartments in Leavenworth, Kan.
Funding for vital services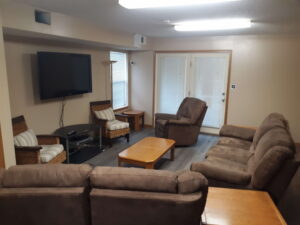 If awarded, a $10,000 donation from Liberty Mutual and Safeco Insurance would help fund vital support services for the residents of the Marion Apartments. It would also be used to upgrade and improve the commons room and public areas at the apartments where they hold social events, weekly group therapy and other meetings critical to recovery and growth.
To vote, share this story using the blue icons to the left, comment below or both. Every vote or comment gets MHAH closer to a $10,000 donation. To learn more, visit Mental Health America of the Heartland and Engage Insurance Group.