Toro Insurance Group works with the Society of St. Vincent de Paul to feed, clothe and house individuals and families. They reached their goal of 500 votes and doubled their donation to reach $10,000.
About 468,000 families across central and northern Arizona cannot currently afford necessities such as adequate food, clothing and health services. To help this vulnerable population, SVdP prepares and serves more than 4,000 meals each day in five area dining rooms where people can gather to eat and connect with community members and neighbors.  The nonprofit also provides home visits, rent and utility bill assistance and employment resources that can have profound positive effects on people's lives.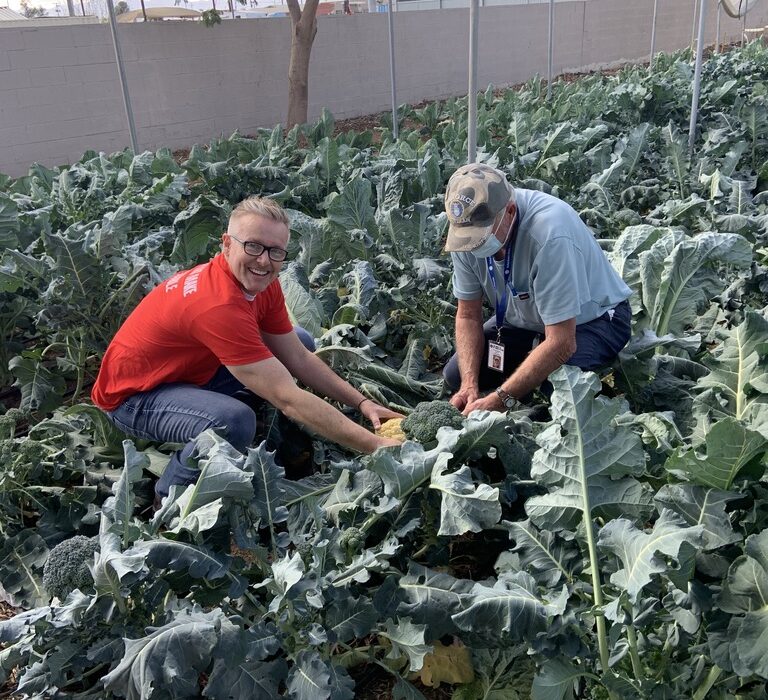 Moving mountains, one stone at a time
The Toro Insurance Group partners with SVdP to help the nonprofit fulfill its mission and reach even more people. Agency owner Mike Gallaugher and his five employees provide direct, hands-on involvement such as preparing food and helping in the dining rooms to help make incremental improvements in the lives of others. While acknowledging the scope of the need in their area, the team believes that small steps can lead to giant leaps.
"We take to heart a quote from Confucius that reads, 'The man who moves a mountain begins by carrying away small stones,'" said Gallaugher. "The mountain represents the seemingly impossible task of feeding all who are hungry. The small stones are the acts of volunteerism, whether small or large, that get the job done. Whether packing food boxes for distribution, raising money or serving meals to neighbors in need, it all adds up. We can't move a mountain overnight, but we can make a significant impact over time."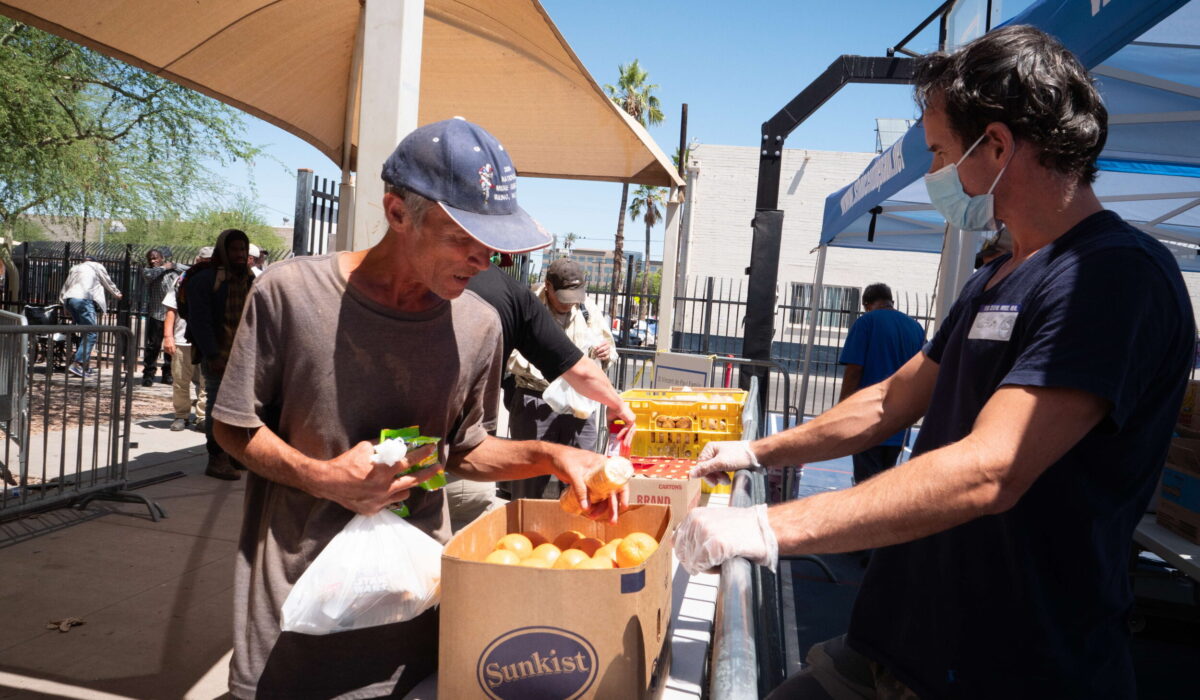 Harvesting hope
One of the Toro Insurance Group's most memorable experiences of working with SVdP was helping to transform a vacant dirt lot along a highway into the Rob and Melani Walton Urban Farm in 2018. Gallaugher credits that collective labor of love with solidifying the agency's dedication to the nonprofit. "With the assistance of many hands, the SVdP urban farm is a testament to what a relatively small group of people can accomplish with vision, financial support and hard work," he said.
Using permaculture and chemical-free growing methods, the farm yields hundreds of pounds of fresh produce every week that is used to feed people in the dining rooms and fill food boxes distributed to individuals and families. The nearly one-acre farm also has an aquaponics system that produces tilapia and a composting program that turns kitchen scraps into nutrient-rich soil used to grow more food.
"The SVdP urban farm is a testament to what a relatively small group of people can accomplish with vision, financial support and hard work."

– Mike Gallaugher, owner of Toro Insurance Group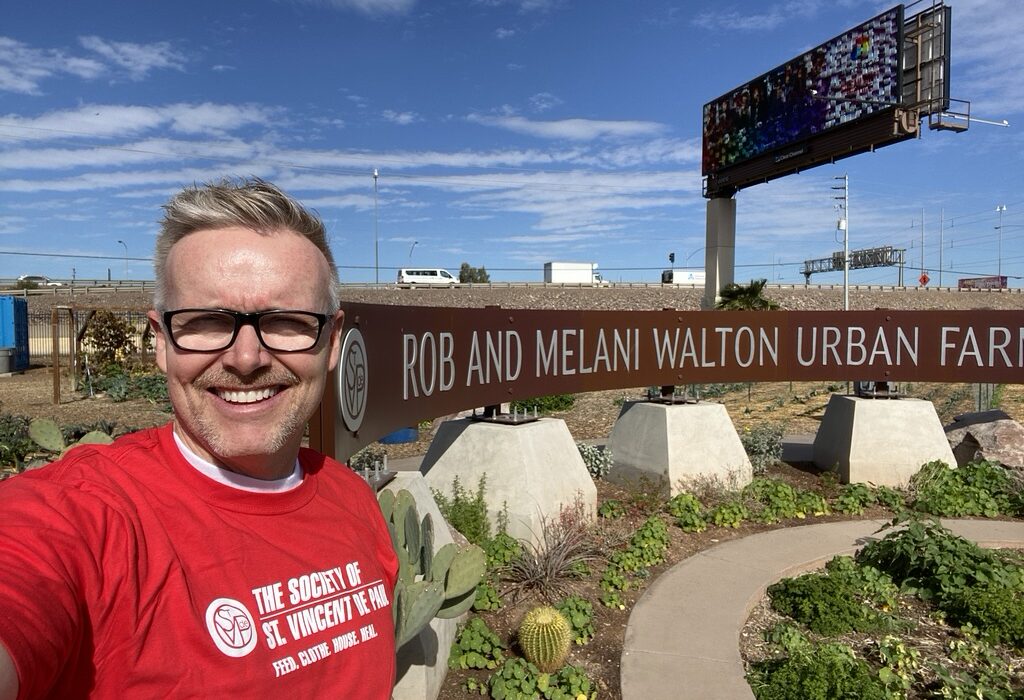 Many hands make light work
In addition to getting his hands dirty, Gallaugher has also served on the SVdP Advisory Board since 2018. This includes attending monthly meetings, raising funds, fostering partnerships, preparing for annual events and developing programs. The entire Toro Insurance Group staff is involved in the effort as well, whether by keeping things moving at the office or volunteering at the dining room, urban garden or events.
Gallaugher's family is deeply involved in the cause, too. His children, Kade, Sylar, and Jaxon, regularly prepare and serve meals, sort donated items, distribute food boxes to families and other tasks. They also work alongside the extended Toro family and other volunteers in planting, picking and maintaining the grounds at the urban farm.
"We could not feed, clothe, house and heal without the humble dedication and passion of community members like Toro Insurance Group, who serve with SVdP behind the scenes on a regular basis across our mission. We're grateful for their belief in our work and compassion for their neighbors in need."

– Ryan Corry, Chief Strategy Officer, St. Vincent de Paul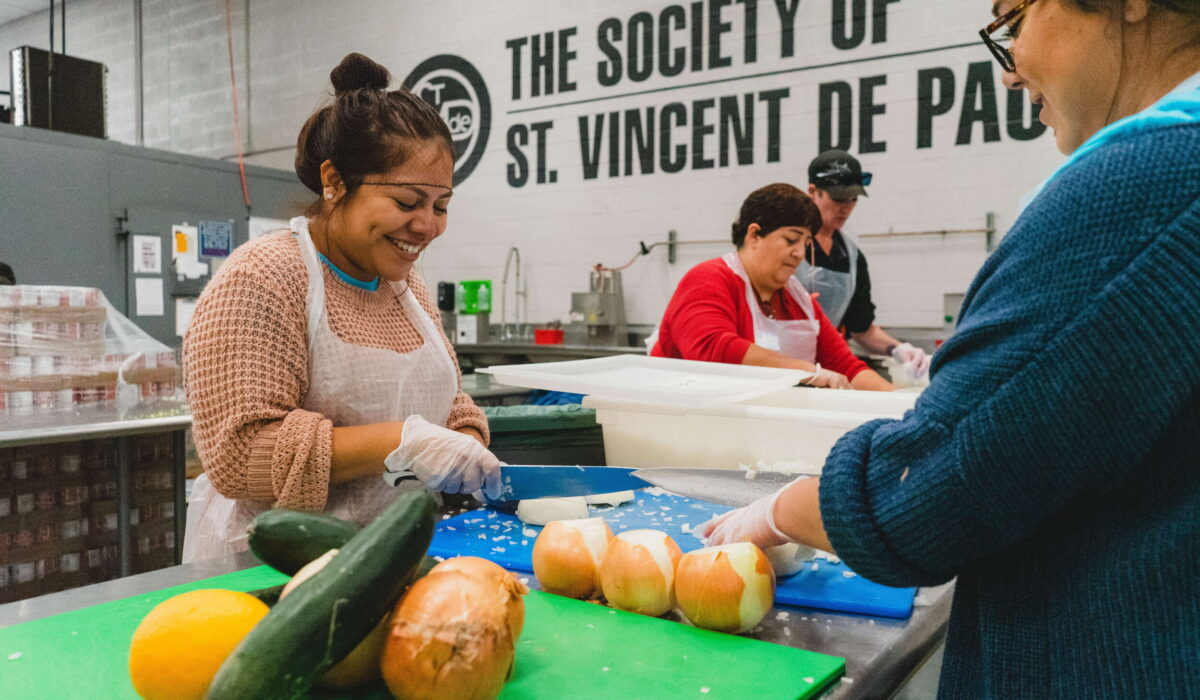 A lasting contribution
If awarded, a $10,000 donation from Safeco and Liberty Mutual Insurance would help SVdP continue to deliver the more than 1.5 million meals it serves each year to those in need. It would further help the organization provide housing and rent assistance, medical and dental services and funding to expand the urban farm. "Sharing food is just the beginning," said Gallaugher. "SVdP's holistic services also give individuals and families the tools they need to achieve lasting stability along with the support to meet their physical, mental, and spiritual needs."
To vote, share this story using the blue icons to the left, comment below or both. Every vote or comment gets SVdP closer to a $10,000 donation, which will provide food, clothing, housing and support to families in need in central and northern Arizona. Visit Toro Insurance Group and the Society of St. Vincent de Paul to learn more.